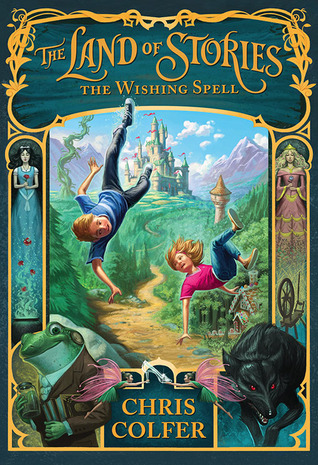 Alex and Conner Bailey's world is about to change, in this fast-paced adventure that uniquely combines our modern day world with the enchanting realm of classic fairy tales.
The Land of Stories tells the tale of twins Alex and Conner. Through the mysterious powers of a cherished book of stories, they leave their world behind and find themselves in a foreign land full of wonder and magic where they come face-to-face with the fairy tale characters they grew up reading about.
But after a series of encounters with witches, wolves, goblins, and trolls alike, getting back home is going to be harder than they thought.
My thoughts on the book: I discovered the saga by sheer luck one day while browsing a bookshop. It was the French translation "Le Pays des Contes" and I was immediately attracted to the beautiful cover. Unfortunately, when I was home I realized that I had purchased Book number 4!! Imagine my disappointment! I was clearly not about to read that one just yet. But, once past this little hiccup, I was actually overjoyed at the idea that there were more! Not wanting to wait for the first three books to arrive by post, I ordered the ebook version in English, which was great because I really wanted to read the original version anyway. Now, I cannot wait to reach Book 4 to experience the whole adventure in my mother tongue!
So, let's get to it. What did I think of The Land of Stories? Well, I didn't like it… I LOVED it! It's brilliantly written, very funny (especially Conner whose sense of humour and sarcasm made me laugh many times), and riveting (a real page turner). I was taken by the story from the start. It's fast-paced, deeply entertaining and true to the spirit of fairytales, but with a modern twist on these famous stories we've heard of so many times from growing up. I thought the characters of Goldilocks and Little Red Riding Hood were especially well thought-out and unexpected. And the way the story of the Evil Queen is told was incredibly stunning. It conveys a sobering message about human nature.
Overall, it's a gripping, moving, enchanting tale that I highly recommend. Honestly, I'm so happy I learned about this book because it offers a real moment of escapism for both adults and children.
My score: ♥ ♥ ♥ ♥ ♥ (=A must-read)