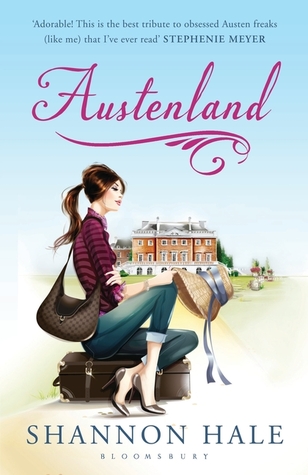 Jane Hayes is a seemingly normal young New Yorker, but she has a secret. Her obsession with Mr. Darcy, as played by Colin Firth in the BBC adaptation of Pride and Prejudice, is ruining her love life: no real man can compare. But when a wealthy relative bequeaths her a trip to an English resort catering to Austen-crazed women, Jane's fantasies of meeting the perfect Regency-era gentleman suddenly become realer than she ever could have imagined.
Decked out in empire-waist gowns, Jane struggles to master Regency etiquette and flirts with gardeners and gentlemen; or maybe even, she suspects, with the actors who are playing them. It's all a game, Jane knows. And yet the longer she stays, the more her insecurities seem to fall away, and the more she wonders: Is she about to kick the Austen obsession for good, or could all her dreams actually culminate in a Mr. Darcy of her own?
My thoughts on the book: I first watched the hilarious film starring Keri Russell, and I knew I had to read the book. Usually, I do it the other way around. Anyway, the book is actually quite short (193 pages), so it is an easy and quick read. Although the film took some liberty with the script, it is as refreshing and entertaining.
I might not necessarily put it on a must-read list, however I had a really pleasant time delving into this Austen detox Jane Hayes is embarking on. By immersing herself in this Austen full-on experience, she's hoping to get all the Darcy craziness out of her system in order to enjoy healthy relationships in real life. And boy did she have a string of awful boyfriends! Jane Hayes is a relatable, witty young woman who shares her experience of this odd theme park that will make you wish it existed in real life. I would also retain one truthful quote from the novel "Fantasy is the opiate of women", and by choosing to indulge in Regency-inspired novels, I must admit it is not entirely false.
All in all, if you feel like having a lovely, fun literary treat, I really recommend reading and watching Austenland. I'm also tempted by the second installment Midnight In Austenland. Why stop the fun?!
My score: ♥ ♥ ♥ ♥ (=I loved it)